Dr. Jennifer Raymond, a brilliant physician and Division Chief for the Center of Endocrinology, Diabetes, and Metabolism and Chair of the Virtual Care Committee, shared her passion for caring for adolescents and young adults, especially in marginalized communities. She was joined on stage by Flor and Agustin Palma, a patient family.  Agustin (7) warmed our hearts as he spoke about his care and Flor impactfully articulated her deep appreciation for Children's Hospital Los Angeles and the compassionate care provided by Dr. Raymond.
Watch Skye & Mark's 2021 message in support of Westside Guild.  Skye Hoppus, a CHLA Foundation Trustee and the Chair of CHLA's Child Life Council,  is committed to supporting the well-being of children in CHLA's care.  She has actively volunteered in the Child Life department at Children's Hospital Los Angeles since 2015. Skye and her husband, Mark Hoppus, of the famed pop-punk trio, blink-182 currently reside in Beverly Hills and have a 19-year-old son Jack.  
Jennifer and Sophia shared their story of Sophia's diagnosis of a
congenital heart defect.  Initially undergoing surgery as an infant, then at 16 undergoing her second open heart surgery, under the care of Dr. Vaughn Starnes at CHLA.  The Stallone's expressed immense appreciation for the care provided by CHLA and was grateful to learn that all children, regardless of family's ability to pay, receive CHLA's world class care. 
Nikki DeLoach shared her story and gratitude, where the amazing doctors and nurses at Children's Hospital Los Angeles saved her son's life.  Bennet had his first open heart surgery at five days old and two subsequent surgeries.
Dr. Lindsay Andras, an incredibly talented surgeon and Director of the Spine Program, provided insight to the complex journey many of her patients experience. She was joined on stage with Bobbie Gerson, patient family, whose young daughter Sara is being treated for spinal muscular atrophy, a genetic neuromuscular disorder that affects motor neurons in the spinal cord. Bobbie expressed tremendous gratitude to Dr. Andras, for her compassionate and world class care for young Sara.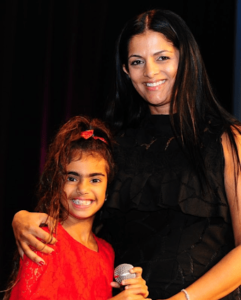 Zaheeda Rahemtulla and her daughter, Saira
Zaheeda and her strong, bubbly daughter Saira, gave an impactful speech about Saira's journey at Children's Hospital Los Angeles. Saira was diagnosed in utero with a congenital heart defect called Tetralogy of Fallot. Saira has undergone 3 open-heart surgeries and has had a stent placed in her left pulmonary artery during her young life. The Rahemtulla family credits Dr. Vaughn Starnes and his remarkable team at The Heart Institute at CHLA for Saira's truly miraculous recovery.